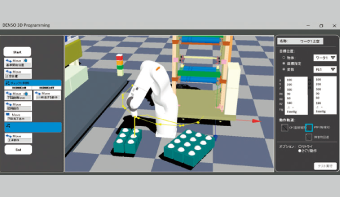 3D Visual Programming
By enabling to place the flow control statements (condi­tional branches) visually on the trajectly, Users not familiar with the robot programming language can recognize the robot movement and easily write the codes.
Optimized motion planner
By specifying the start and the end points for the robot move­ment, the trajectory avoiding obstacles with the shortest cycle time is automatically generated.The trajectory generation that relies on the skilled users'experience is now scientifically performed, so that both skilled users and beginners can extract the the same performance from the robots.
Home Position Guidance
"Home Position Guidance" generates the path to safely go back to Home Position, assuming no obstacles on the paths the robot recorded during the automatic mode. It can perform rewinding the operations partially.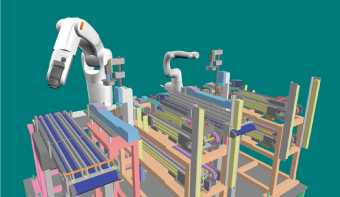 Robot Viewer
"Robot Viewer" is the 3D Viewer used in WIN CAPS Pllus. Enhanced 3D CAD data loading, object operating environment, and object management enables WINCAPS Plus products to provide a comfortable simulation enviツュronment.
Palletizing Builder
"Palletizing Software" is the software used for palletizing and depalletizing. The target position considering the mov­able range is automatically displayed by entering the shape and dimensions of the pallet and work.