No matter how much advanced functionality a robot controller offers, those benefits will be undermined if the development environment changes or becomes more difficult to use. That's especially true in the field of manufacturing equipment, where it's difficult to change hardware that's expected to operate over decades-long timeframes.
The RC9 Robot Controller inherits the open and powerful development environment whose evolution has been driven by Denso robots to date, allowing new functions to be developed in the same environment as has been used until now.
The RC9 also features new optional products designed to make programming and operation even easier. This page unravels the RC9's advanced functionality and enhanced ease of use.
A powerful development environment that lets you build systems extending from robot control to integrated equipment control and the IoT
As explored in another article, a key strength of Denso robots is their powerful and open development environment. Of key importance to that environment are Denso's robotics language, known as PacScript, and ORiN middleware.

PacScript, a programming language for controlling Denso robots, brings the accessibility of Microsoft's Visual Basic to SLIM, a programming language designed for use with industrial robots. As a result, it offers a wealth of commands above and beyond robot operation, including flow control and arithmetic functions.
ORiN is middleware that provides a standard communications interface for accessing factory automation hardware like robots, databases, and other resources. ORiN smooths out manufacturer-specific differences in the methods used to control equipment to give engineers a familiar development environment, delivering substantial savings in man-hours spent on equipment launches and specifications changes.
With RC8, Denso provided a powerful development environment with about 450 commands (PacSript) and about 200 providers (ORiN).
Inheriting and extending the development environment
 Let's compare the RC8 and RC9 architectures.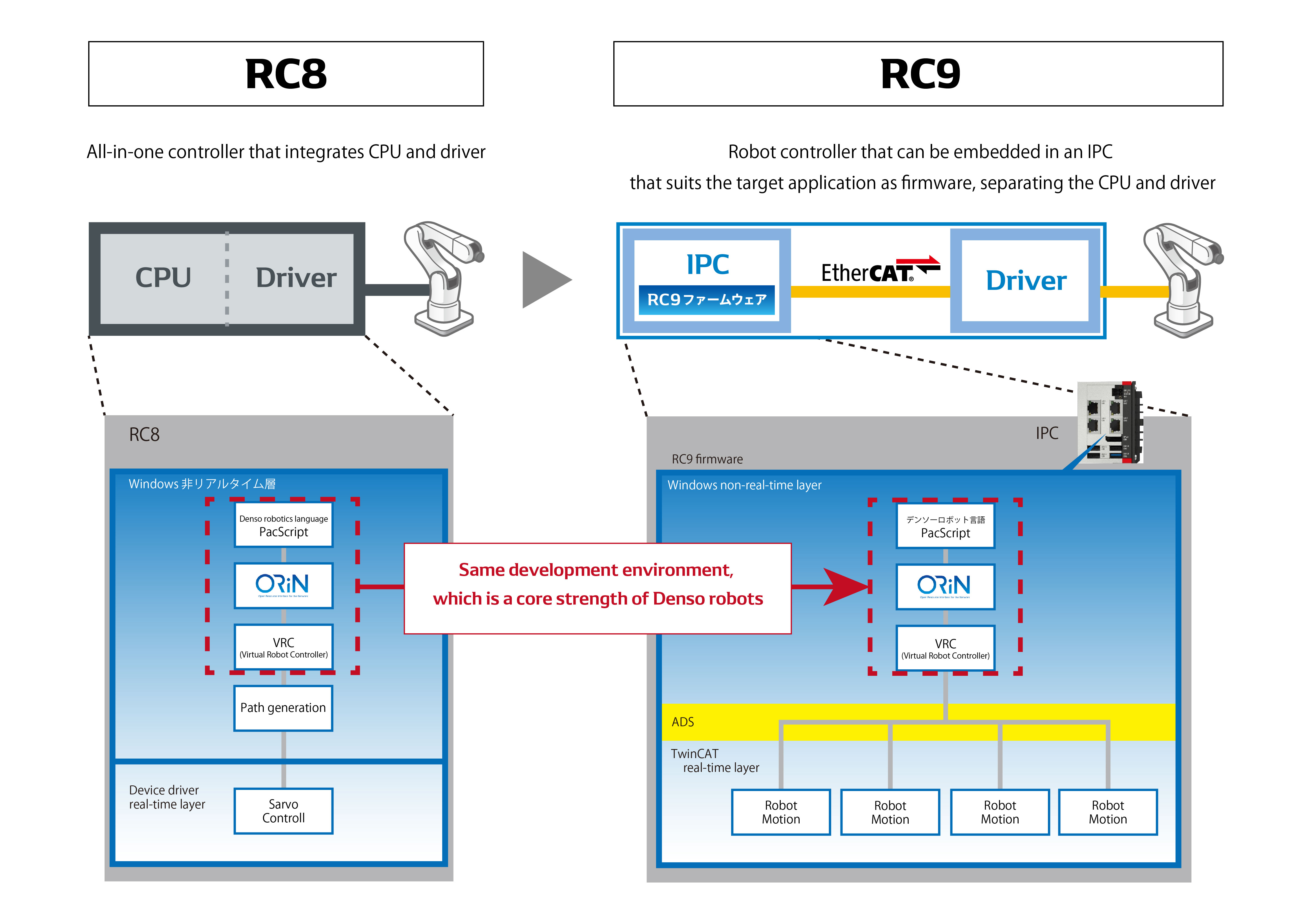 The RC8 high-performance robot controller, which has been available for some time, is an all-in-one controller that integrates the CPU and driver. Internally, it consists of Windows (non-real-time layer) and device driver (real-time layer) components. The Windows layer includes ORiN and VRC middleware, and paths are generated based on those elements.
By contrast, RC9 uses a new architecture with separate CPU and driver components that are connected by EtherCAT. Internally, it consists of Windows (non-real-time layer) and TwinCAT (real-time layer) elements.
Despite its new architecture, the RC9 retains the same configuration for ORiN, VRC, and PacScript as the RC8 (shown in red), and it inherits the open development environment that customers have come to expect as a core strength of Denso robots. The biggest difference is found in path generation, which is carried out by the TwinCAT real-time layer instead of the Windows layer, accelerating the process compared to RC8.