Robot Tools is a fully featured suite of utility tools created for optimum maintenance and operation of DENSO Robotics.
・The software streamlines daily maintenance workflow and reduces the running costs of a robot after installation.
Features of each product
Image Logger
Help to determine causes of sudden errors and incorrect equipment assembly. Takes images before and after problems happen and saves equipment data (I/O, variables, etc.) at the time they happen. Specifies errors caused through image and data validation to help with improving equipment.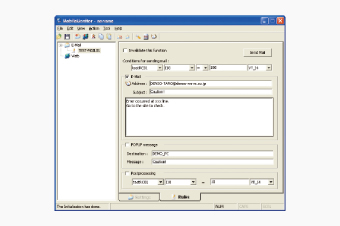 Mobile Monitor
Monitors controller operating status and enables quick response to an error by sending an error notification email to a portable device when an operator is offsite. Contributes to improved maintainability and task efficiency.
Control Log Analyzer
Obtains the control log from a designated controller and automatically displays it in a graph. This graph can be used to analyze robot control status (such as detection of NG waveforms), or the control log can be entered into a database to be compared with past data. Improves maintainability and visualizes (quantifi es) an error occurrence.
Virtual TP
A virtual teach pendant on the PC works with a controller set on manual mode, allowing various controller settings (GUI) to be configured and monitored even from a remote location. Improves maintainability and helps a user create settings when no mini pendant or teach pendant is available.
GP Operator
Connect a robot controller to a PC and use a mouse or game pad for easy robot operation. Allows teaching to a designated variable (P type, J type or T type) to assist developer teaching in which a PC is used to control a robot.

Easy Backup
Performs backup and restores all data from multiple controllers in a batch. Automatic Easy Backup reduces task time and Easy Restore enables fast recovery when an error occurs.Contributes to improved maintainability and task efficiency.
Operating Environment
【OS】Windows® XP SP1 or later / Vista / 7 / 8
【PC】 CPU Pentium® III 1 GHz or faster, Memory 512 MB or more, HDD 500 MB or more