DENSO and DENSO Wave receive world-renowned iF Design Award for new VS Series 6-axis compact robots

KARIYA (Japan) – DENSO Corporation and DENSO Wave Incorporated, a DENSO Group company that develops industrial systems and devices, received the International Forum Design Award (iF Design Award) for the model VS-068, one of the new VS Series six-axis compact robots released by DENSO Wave in November 2010.
Designed for maximum ease of use, the new VS Series are compact industrial robots that move at the world's fastest speed* and have the world's slimmest arms* in their class. This series comes in four types each with a different arm length - the award-winning VS-068 has the second longest. They are sold in Europe, North America, and Asia through DENSO's sales offices, and also in Japan through DENSO FA distributors. The new products are expected to reach annual sales of 5,000 units worldwide.
* According to research by DENSO WAVE as of February 2011

The International Forum Design Award has been held since 1953 in Germany and now gathers entries from over forty countries worldwide. The Award, which evaluates not only the aesthetic aspect of the design but in total of eleven different criteria including technological and engineering sophistication and advancement, is considered one of the world's most prestigious prizes for industrial design.


DENSO WAVE INCORPORATED, headquartered in Agui-cho, Chita-gun, Aichi prefecture, Japan, offers automatic data capture equipment, industrial robots, programmable controllers and other apparatus and systems. For more information, visit http://www.denso-wave.com/en/index.html.
DENSO Corporation, headquartered in Kariya, Aichi prefecture, Japan, is a leading global automotive supplier of advanced technology, systems and components in the areas of thermal, powertrain control, electric, electronics and information and safety. Its customers include all the world's major carmakers. Worldwide, the company has more than 200 subsidiaries and affiliates in 34 countries and regions (including Japan) and employs approximately 120,000 people. Consolidated global sales for the fiscal year ending March 31, 2010, totaled US$32.0 billion. Last fiscal year, DENSO spent 9.1 percent of its global consolidated sales on research and development. DENSO common stock is traded on the Tokyo and Nagoya stock exchanges. For more information, go to www.globaldenso.com, or visit our media website at www.densomediacenter.com.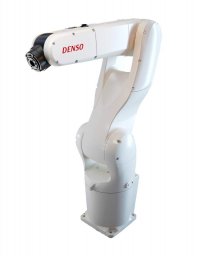 VS-068