Touch Scanning Adopted
The touch scanning method, which does not require getting used to and enables any user to scan the targeted code without fail, has been adopted.
Large scanning port with a length of 67 mm
Wide reading window for scanning bar codes for standard charge proxy collection at ease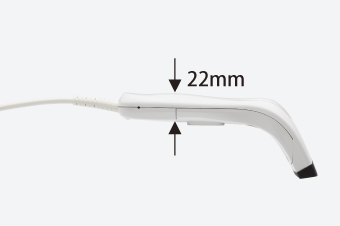 Compact design
Grip of 22 mm in thickness, and compact & lightweight design (85 g in weight)
Antibacterial and weather-resistant
The main unit is JIS Z 2801-compliant antibacterial and weather-resistant, which can be cleanly used for a long time.

Further feature
A high-intensity blue LED has been adopted for the reading check indicator, securing excellent viewability. This product has a tough body that can resist 30 falls from a height of 1.5 m, the highest in its class.