Collaborative robot that uses RFID setup automation
By implementing RFID technology in the manufacturing process, we automated the collaborative robot "COBOTTA" through a process of using RFID tags on returnable boxes. Efforts to reduce labor and eliminate mistake continue.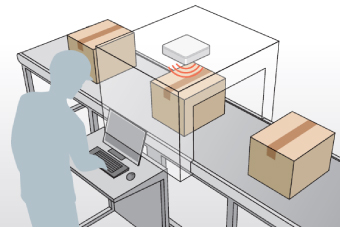 Extra fast inspections through the RFID conveyor gate
By using the high output stationary the RFID scanner, "UR40" (reference exhibit), it's possible to read the information on the item on the conveyor belt quickly. It supports improved logistics processes.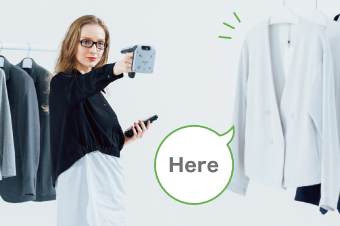 High-power SP1 handheld Scanner enable easy & quick merchandise locating
The High-power Scanner allows users to find items more efficiently.
It increases sales and customer satisfaction by eliminating waiting lines in stores and enhancing efficiency in warehouse operations.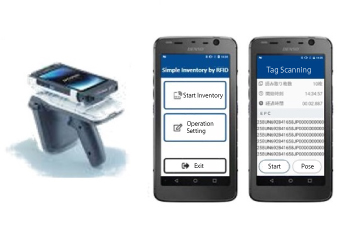 From demo experiments to environmental creation, RFID-implemented applications can support it all.
If you use the installation support from DENSO, you can do everything from run demo experiments with detailed data gathered from actual operations to building the optimal radio wave environment. We support all of you who have implemented RFID.
Through visualization of storage for multiple stores
When data showing how many units should be in storage don't match the actual numbers, it causes trouble for retailers. Through the use of an RFID system, this gap disappears and lost opportunities are reduced.
Face Recognition SQRC Smartphone Payment
Data secured with smartphone payments – no plastic card needed. Authentication is performed offline directly by the SQRC. No personal information stored on a server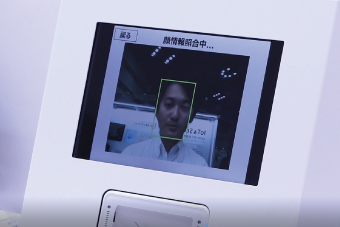 Face Recognition SQRC Ticket Issue Kiosk
"Face Recognition SQRC Ticket Issue Kiosk" prevents impersonators with high-security at check-in. Authentication is performed offline directly by the SQRC.No personal information stored on a server