Secure robustness
Drop impact resistance
Highest standard in the class of 2 m × 60 times

GT20 has a highly durable design to withstand strong impact, so there is nothing to worry about if you drop this scanner.
Environmental resistance
IP code rating of IP65 achieved

GT20 is recommended with confidence even in the case that it is used under severe conditions, such as at dusty or wet locations.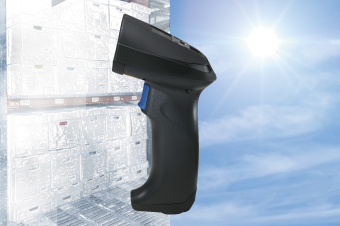 Operating temperature range
Between -20 and 50°C

GT20 can be used under various types of environment, such as inside cold storage chambers and semi-outdoor areas in plants, expanding the range of use for customers
Overwhelming reading performance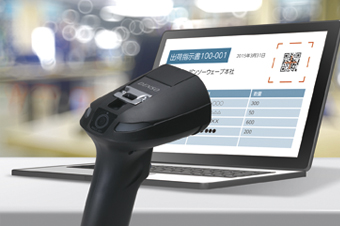 LCD screen reading
The original LED lighting control function enables smooth reading of codes displayed on a liquid crystal screen.

GT20 can read QR Codes displayed on a PC or tablet screen, expanding the range of use for customers
Poorly printed label reading
Efficient at reading dirty and blurred codes

GT20 has such a high reading performance that it can read even poorly printed codes very efficiently, so there is nothing to worry about even at a site under severe conditions where codes easily become dirty, delivering "What a high reading performance!"
Additional features!!
Point Scan Mode
GT20 can read only the targeted code indicated by the central cross even when multiple codes exist in the reading area.
One-time reading of multi-row barcodes
GT20 can read a barcode with up to three rows at a time.
Concatenated QR Code reading
GT20 can read a concatenated QR Code at one time.
Outstanding operability
Confirmation of reading
Double LED, buzzer and vibrator incorporated

GT20 allows secure confirmation by "light," "sound" and"vibration" even in noisy conditions.
Among the most lightweight designs in its class
Lightweight body weighing 180 g

The lightweight and compact design can reduce fatigue when used for long periods. Its user-friendly body is highly durable yet lightweight.
Suspensible
GT20 has a hook so that it can be hung from the ceiling together with other jigs when used at plant lines, etc.

Considerations only possible by Denso Wave, expanding the range of use for customers.
Code lock
The connector cover, which is resilient against becoming detached and breaking, firmly locks the cord.

The body is not the only durable part. Denso Wave paid meticulous attention to even the shape of the connector cover and achieved robustness in every detail.
Magic Key
Work can become more efficient by allocating a convenient function to the Magic Key.
Image capture
When a non-conforming product is detected on a plant production line, for example, the image of the product can be captured with GT20 on site and sent to its host.
Equipped with data collation and edit functions Development of a dedicated application is not required
Equipped with a function to compare the registered master data with the read data.
This function enables easy establishment of systems for non-conforming product checking and incorrect labeling checking.
Furthermore, the simplified programming software application "ADF Script" makes it easy to edit data freely, including data sorting, extraction and conversion.
*Sales availability varies by country and region. Please contact us for more information.