01.Equipped with a high-brightness LED.
You can visually recognize the LED emission in a dark place,
such as a warehouse,or even under lighting.
02.
You can turn on the LED
from a distance of
up to 8 m*
.
*

The reading distance is a reference value when using SP1 scanner and may differ depending on the actual environmental conditions.
03.The tag is translucent, and you can recognize the light

even from the side

.
04. Being highly durable*,

you can use it repeatedly.
*

Drop durability on concrete from a height of 1.2 m (20 tags tested)
Convenient, user-friendly functions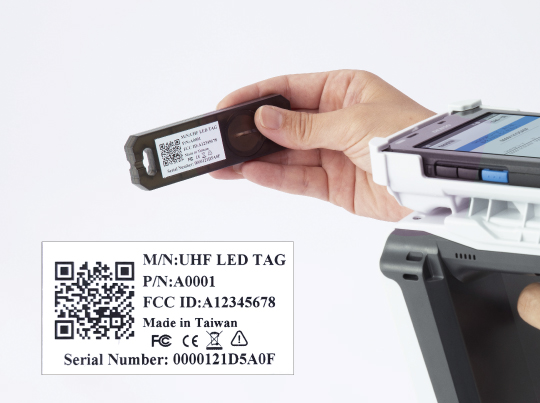 Easy to set up at the time of introduction! Easy QR code kitting
・By scanning the QR code that incorporates unique electronic product code (EPC) information  on the back of the tag, it is possible to link to the right tag securely, even in an environment with multiple tags.
A function that allows you to use the battery efficiently without waste.
・The battery level monitor informs you when you need to replace it.
・A long-lasting battery with a function to prevent the tag  from being left on.

The special design offers a variety of tag mounting methods according to the usage scene.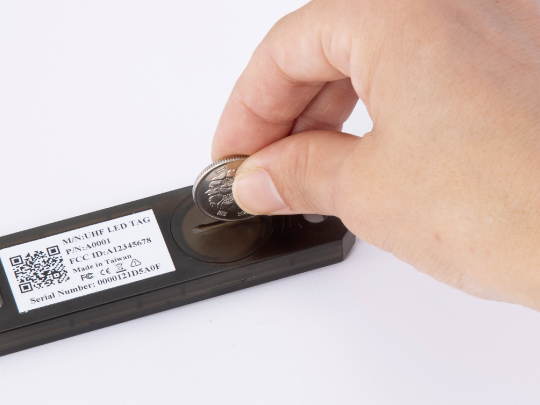 Battery replacement is easy if you use a coin to open the battery compartment.
・Commercially available button batteries can be used.
Ideal application examples
    ・Shelve and box searches
    ・Digital picking system
    ・Basket cart searches
    ・Checked baggage searches
・BHT and QR code are registered trademarks of DENSO WAVE INCORPORATED.
・Android is a trademark of Google LLC.
・The outer appearance and specifications of the products may change for improvement purposes without prior notice.
*Sales availability varies by country and region. Please contact us for more information.