Outline
Copy a file via a USB cable using Windows Explorer.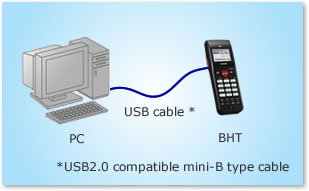 The following BHTs can be used.
What You Need
Hardware
PC (Windows XP SP2 or later, Windows Vista, Windows 7)
BHT
USB cable (supporting USB2.0, mini-B type)
Software and Manual
Windows Media Player 11 or higher
Install Required Software
Installing Windows Media Player ver. 11 or higher
You need to install Windows Media Player 11 or higher by downloading it from official Microsoft website at:
http://windows.microsoft.com/en-US/windows/downloads/windows-media-player.
If Windows Media Player 11 is already installed on your PC, you no longer need to do so.
Download a File
Downloading
Turn on the BHT while keeping the [SF] key and the [1] key pressed together to get the system menu started.
Select [DEVICE] -> [USB].
The USB communication setting menu is displayed.
Select [MTP] for the USB connection mode.

Note: The menu and the item number depend on the BHT.
Connect the BHT to your PC using a USB cable.
The BHT is recognized as a portable device, which is indicated on the BHT screen as shown below.

The following screen appears on the PC side. Execute Windows Explorer.

The following screen is displayed. Select the folder having the BHT's serial number.

A list of the files included in the BHT is shown on the screen.
Copy these files using the features, such as drag and drop, of Windows Explorer.