DENSO WAVE INCORPORATED (Head Office: Agui-cho, Chita-gun, Aichi Prefecture; Chairperson of the Board and Chief Executive Officer: Katsuhiko Sugito) today announced that Toei Subway has adopted an automatic platform door control system based on Denso Wave's new QR Codes (tQR™) developed jointly with Toei Transportation. The system was first introduced on the Toei Asakusa Line(1). Before this introduction, starting on November 24, 2017, the system was tested and verified on platform doors for approximately one month at Daimon Station. According to Toei Transportation, work on Platform 2 at Shimbashi Station to equip platform doors linked to the system will begin after the last train departs on June 8, 2019. The system is slated to become operational at the station around October 2019.
【Control system overview (schematic illustration)】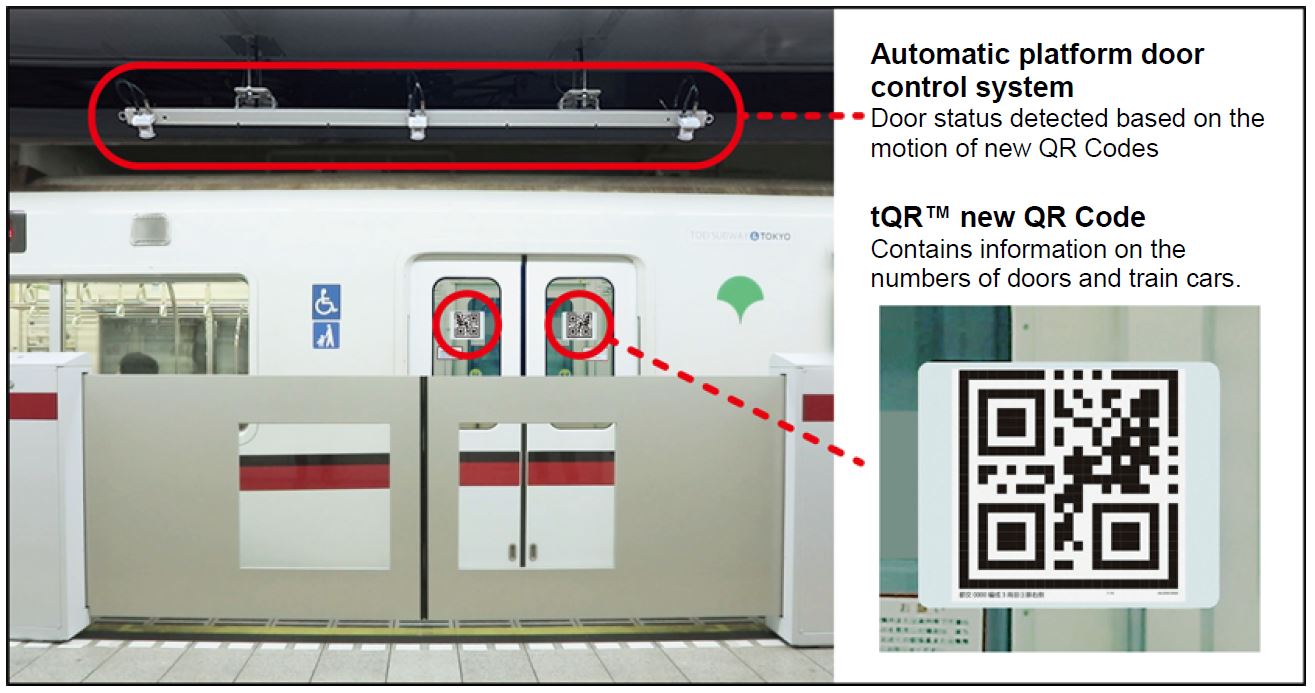 According to information released by the Ministry of Land, Infrastructure, Transport and Tourism,(2)to prevent falls from train and subway platforms, a goal has been set to install platform doors at 800 stations around the country by 2020. This system uses QR Codes and platform scanners in place of communication and control devices to be mounted on each train, resulting in lower costs and shorter work times for retrofitting train cars. The system implements the following features:
Feature 1. Shorter work times for retrofitting train cars
Affixing labels printed with tQR Codes to train car doors is all that is required, allowing installation of the control system without major work on the train cars.
 
Feature 2. Allows train conductors to open and close platform doors with a single action
Platform doors linked to the system can be opened and closed only by operating the train doors, eliminating delays caused by trains forced to stop and wait for platform doors to open and close.

Plans call for the system to be installed by Toei Transportation at Shimbashi, Daimon, Mita, and Sengakuji Stations on Toei Subway's Asakusa Line ahead of the Tokyo 2020 Olympics and Paralympics. The company is targeting installation at all Asakusa Line stations by 2023.
1.Based on Denso Wave survey conducted February 2019
2.According the MLIT's 2015 4th Priority Plan for Infrastructure Development