Outline
Download a file via the Communication Unit (CU) using a USB cable.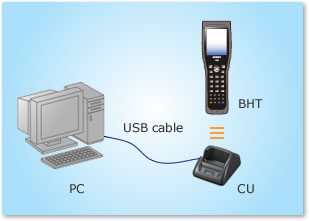 The BHT and the CU can be used in the following combinations.
| BHT | CU |
| --- | --- |
| BHT-300 series | CU-321 |
| BHT-500 series | CU-521 |
| BHT-600 series | CU-621 |
| BHT-800 series | CU-821 |
| BHT-900 series | CU-921 |
What You Need
Hardware
PC
BHT
CU (connected via USB)
USB cable
Software and Manual
Active USB-COM Port Driver Installation Guide (Comes with the driver)
Install Required Software
Installing a driver
When connecting the BHT with a USB cable, you need to install a driver to use the USB as a virtual serial port.
Download the Active USB-COM port driver.
Decompress the downloaded file.
Install the driver by referring to the Installation Guide.
Installing BHT-BASIC4.0 Transfer Utility
You need to install a tool for transmitting the program files.
Download the BHT-BASIC4.0 Transfer Utility.
Decompress the downloaded file and install the Transfer Utility.
Download a File
Establishing download environments
Preparation of BHT
Turn on the BHT while keeping the [SF] key and the [1] key pressed together to get the system menu started.
Select [SET SYSTEM] -> [COMMUNICATION] -> [OPTICAL] -> [PARAMETER].
The communication speed setting menu is displayed.
Select the communication speed you desire.
As a communication interface between the BHT and the CU is defined here, change the [OPTICAL] settings.


Note: The menu and the item number depend on the BHT.
Preparation of PC
Turn on the device manager and check the COM port number the CU is connected to.
Setting is switched between "Connected" and "Disconnected" every time the CU is plugged in and out of the PC.

Turn on the Transfer Utility.
Select [Select Protocol…Ctrl+P] from the [Option (O)] menu. Ensure that the communication protocol is set to "YMODEM(Batch)".
Ymodem is used for the communication protocol in this case. If anything other than Ymodem is used, you need to change it.

Select [Option…Ctrl+O] from the [Option (O)] menu.
The communication option setting menu is displayed.
Set the communication port and communication speed most appropriate for your operating environments. Use the COM port number confirmed by the device manager for a communication port.

[Communication Option Setting when YMODEM(Batch) selected]

Downloading
Start the system menu by turning on the BHT while keeping the [SF] key and the [1] key pressed together and then select [DOWNLOAD].
The download menu is displayed after that.
Ymodem is used for the communication protocol in this case. If anything other than Ymodem is used, you need to change it.

Select [FILE].
The BHT is set to the wait state while a download is in progress, which is indicated by "** Waiting **" on the screen.

Select [Send…Ctrl+S] from the [File (F)] menu on the BHT-BASIC4.0 Transfer Utility to view the [Send File] dialog box.

Select the user program you have created and click [Open (O)].

Download starts. The progress of download is shown on the screen.

The screen below is displayed on completion of the download.
[Download completed (BHT side)]


[Download completed (BHT-BASIC4.0 Transfer Utility side)]