Ideal for order picking and repeat scanning
Newly developed switching technology enables the contactless connection between a scanner and an external trigger. The wireless structure avoids the risk of disconnection and breakage. If a scanner is removed from the attachment, it can operate as a mobile scanner.
Wearable attachment with unique material ensures comfortable operation anytime
Attachment base is made of highly moisture-absorbing material that reduces friction on skin and is easily washable for a clean and comfortable fit.
※The scanner holder is not washable. Please read the enclosed operator's guide.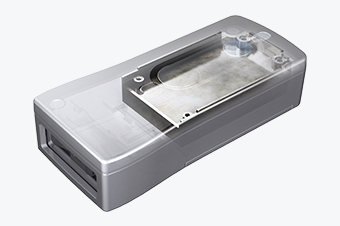 Lightweight magnesium frame provides top-notch drop impact resistance
The durable magnesium frame is perfect for tough workplaces and withstands a height drop test of up to 2.5 m, all while remaining lightweight and comfortable.
*Sales availability varies by country and region. Please contact us for more information.