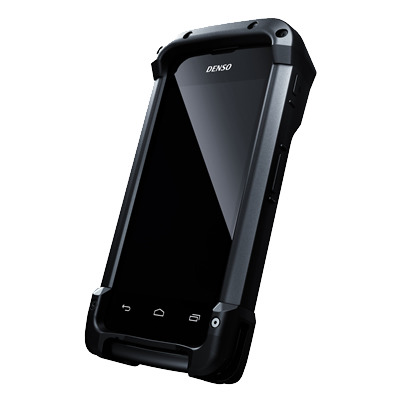 ・DENSO WAVE will release an Android 6.0-based large-screen handy terminal, the "BHT-1600," in Europe in April 2017, the first in the world to do so.
・The BHT-1600 series achieves excellent durability with an Protection rating IP 67 and 1.8-meter drop impact resistance (for the protector model).
・The 4.7-inch large screen can display a vast amount of information, improving work efficiency.
Agui-cho, Aichi, Japan– DENSO WAVE INCORPORATED will release an Android 6.0-based large-screen handy terminal, the "BHT-1600," in Europe in April 2017, ahead of the rest of world. The BHT-1600 series has excellent resistance to dust and water with an IP 67 rating and superb durability with 1.8-meter drop resistance (for the protector model). Since it can send data at high speeds through its 4G LTE line, it is ideal for use at distribution sites, including delivery and warehouse tasks.
Hiroaki Mizukoshi (General Manager, AUTO-ID Business Unit Engineering Planning Division):
The BHT-1600 series achieves exceptional durability despite its very large screen. Its wide operating temperature range of −20 to 50°C (−4 to 122°F), ensures it will operate stably even in places with large temperature differences. Capable of 4G LTE communication, the BHT-1600 is a next-generation handy terminal suitable for jobs that need real-time response in this age of IoT.
Main Features
1.Protection rating IP67 and 1.8 m drop resistance as standard feature
The BHT-1600 series realizes an IP67 protection rating to ensure reliable operation in any harsh fi eld environments. With the protector case model, an even better robustness with 1.8 m drop resistance can be achieved.
2.Android OS to realize a wider range of use
Delivery and travel conditions in logistics field operations can be checked in real time at headquarters, using Android functions such as LTE communication and GPS function. The BHT-1600 series has a wide usage range, including autocreation of a driver's daily report and as a portable digital tachometer.
The unit can share apps with other Android devices such as tablets. Being a universal OS, you won't have problems fi nding an app developer.
3.Large 4.7-inch screen helps display an array of information clearly
The BHT-1600 is optimised for field operations where viewing information on the screen such as delivery address or work instructions is important.
The BHT-1600 series features Dragontrail(1) hard glass for its LCD screen. With its high resistance to scratches that can reduce vesibility, the touch screen of the business-use terminals is safely protected, giving all operators peace of mind.
4.24-hour operating time(2) even in continuous wireless operation
The unique energy-saving design realizes a 24-hour operating time, ensuring continuous operation without the need for frequent recharging.
5.Multi-language development environment
A special SDK supporting JAVA, C#, and HTML5 is provided for the BHT-1600 series free of charge. The SDK incorporates full-fl edged sample apps useful in any kind of development.
About DENSO WAVE AUTO –ID business
Constantly responding to changes in society, DENSO WAVE has been communicating fun and enjoyment to our customers through AUTO-ID products for more than 35 years.
We have revolutionized customers' operations by developing the world's first handy terminal and CCD scanner as well as QR Code® and other new codes, and provided customers with potential for further business growth by early delivery of RFID and IC card technologies. We will continue to expand customers' futures through the power of AUTO-ID.
1.

Dragontrail® and its logo are registered trademarks of Asahi Glass Co., Ltd.

2.

Only for BHT-1600QWB-A6-S/BHT-1600QWB-A6-RS.