DENSO WAVE to Release New 2D-Code Scanner with Tough Body and Excellent Operability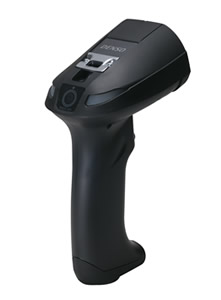 On April 10, DENSO WAVE INCORPORATED (Head office: Agui-cho, Chita-gun, Aichi Prefecture, President: Mitsuhiko Masegi) will release a new, highly durable and high-performance 2D-code scanner "GT20Q" with an open price.
GT20Q has excellent robustness, allowing users to employ it with confidence for production instructions and arrival/shipment management, food ingredients feeding management and traceability in manufacturing settings where the usage load is assumed to be high, and also features outstanding reading performance based on a reading algorithm created exclusively by the manufacturer that developed the QR Code. Its compact body weighing as little as 180 grams also has a vibrator, which makes operations easy in noisy conditions, and a double LED, achieving superb operability. Furthermore, it features multiple functions that meet various needs, helping user companies reduce work load for installation and operations.
1. Excellent durability
The unit body has enhanced strength and is encased in shock-absorbing rubber for greater durability, with industry-leading 2 meter drop impact resistance. Furthermore, due to high quality technologies that have been developed over the years to prevent entry of water and dust, this product has an IP code rating of IP65. Since its operating temperature range is between -20 and 50˚C, this product can be used under various types of environment, such as inside cold storage chambers and semi-outdoor areas in plants.
2. High reading performance
This product has excellent reading performance, achieving high-speed reading of normal 2D codes, reading of poor-printed, low-quality labels and high-speed 360-degree reading. Furthermore, utilizing its advantages as a 2D code scanner, this product has various useful functions, such as the point scanner mode where the only targeted code can be read even when there are multiple codes in the reading area; one-time reading of multiple barcodes; and one-time reading of concatenated QR Codes, allowing quick and reliable operations.
3. Superb operability
Its highly durable yet compact body weighing approximately 180 grams can reduce fatigue when used for long periods. Furthermore, its vibrator function and double LED allow secure confirmation of reading even in noisy conditions. Also, the device has a superb operability with an area guide marker, which makes it easy for users to identify the reading area, significantly improving work efficiency.
4. Multiple functions
GT20Q has a wide variety of functions to meet diversified needs, including a data collation function for determining whether the read code data agree with the pre-registered master data or not; an auto-sensing function for automatically reading labels to allow hands-free operations; a software trigger function for making it possible to enable/disable the reading function of the device from its host; and a digital camera-like image capture function for shooting images.
5. Equipped with a magic key that can be used for various uses
Various functions can be conveniently assigned to a magic key located in the upper part of the body. The functions include: a designated character transfer function for easy transfer of predetermined data, such as clerk keys and location keys that must be input on each operation; a read data re-transfer function for transfering the same data without reading them repeatedly; and a read code switch function for selecting desirable codes according to scene. This improves work efficiency dramatically.
6. Configuration software simplifying parameter setting
By cable-connecting a PC and GT20Q, parameters can be configured from the configuration software on the PC. Changing one of multiple parameters can be easily made according to the use environment anytime and anywhere by distributing printed configuration bar codes using the software in advance.
◇Contact information for sales inquiries
AUTO-ID Engineering Dept., Customer Service Div., DENSO WAVE INCORPORATED  Tel: 03-6367-9677 Toll-free Tel: 0120-585-271 
Business hours: 9:10 a.m. - noon; 1:00 p.m. - 5:30 p.m. (except Saturdays, Sundays and national holidays)