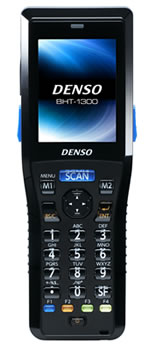 DENSO WAVE Incorporated (Head office: Agui-cho, Chita-gun, Aichi Prefecture, President: Mitsuhiko Masegi) will release a new type handy terminal that reads bar codes and 2D codes, the "BHT-1300 Series", on July 3, 2013 in Japan, with the intention of selling it overseas progressively.
The BHT-1300 series has been developed for use in inventory/ordering on store shelves, receipt/shipment of goods and inventory management in distribution warehouses, etc. Taking into account use of the terminal by women over many hours, this series not only features a body 15% smaller than those of existing models, but also employs a domical-shaped key top, making it easy to operate even when cotton work gloves are worn, achieving both miniaturization and high operability. In addition, our own power management system makes it possible to use the terminal for 28 hours(1), the longest in its class(2), even with a radio LAN connection that is continually active.
The terminal features tone of the latest code reader engines to improve its precision in reading coarse codes or laminated codes. For the model that can read 2D codes, the terminal allows 2D codes and bar codes to be read at high speed, achieving significant improvement in work efficiency.
The company has adopted open pricing for the main body, instead of setting a manufacturer's recommended retail price, and plans to sell a total of approximately 50,000 units in Japan and overseas.
With read: radio communication, screen rewrite: wait = 1:1:1:20 when radio connection is continually activate. When a standard battery is installed in 2D code mode.

May 5, 2013, according to the company's research
Features of BHT-1300 series
Compact body with the operability enhanced
The series features a compact model that is 15% thinner, 20% lighter, and 25% smaller than existing models, and achieves high operability by allowing users to easily press keys with cotton work gloves and by making the key top dome-shaped. Installation of the frequently-used scan key at the center of the body, allows users to smoothly perform a series of operations (Read Code => Key Entry => Enter (ENT key)) for collecting data.
Considering usage of the terminal under tough environments, the terminal features drop durability from a height of 2.0 m and a highly durable liquid crystal plate to retain its high screen strength.
In addition, considering interior store decorations, the terminal features such a luxurious design that it can naturally merge into the decor of apparel stores etc.
Improvement of basic performance required for a handy terminal
Excellent reading performance contributing to increased work efficiency
Since the terminal is equipped with one of the latest code reader engines it can read codes with high precision no matter how coarse or heavily laminated they may be. The 2D code model has faster decoding speed while reading bar codes in every direction within the read area, achieving a reading speed that can easily stand comparison with barcode models. This allows users to read a bar code in any direction (360 degrees) without the necessity of facing the handy terminal in the direction of the bar code, remarkably improving work efficiency.
Worry-free operation over many hours, even when a radio LAN connection is continually active
Since radio LAN communication supports IEEE802.11b/g/n, the terminal is suitable for various customer usage environments. For preventing illegal access or tapping, the terminal also supports highly reliable WPA/WPA2 security.
In addition, with the increase in operations involving "always-on" radio LAN connection, we have successfully developed our own power management system to remarkably improve the operation time. The terminal can therefore be used worry-free for many hours.
Other features of the BHT-1300 series
1.High screen visibility independent of usage environment
Assuming that the terminal will be used in various locations, e.g., dim warehouses, under LED illumination in stores, outdoors under direct sunlight, etc., the terminal has adopted a highly-visible liquid crystal High-Bright display, which can not only ensure visibility in dark places but also restrict light reflection or glare in better lit areas.
2.Worry-free backup even in case of emergency
Since the dedicated battery as well as dry cells (three size AAA batteries) can be used to run the terminal, smooth operation can continue even when the battery runs out suddenly at an outside location or during a transient period in the aftermath of a disaster.
Set data, applications, and work data can also be backed up in the microSD memory card installed in the body. Even when the body must be replaced, installing the original microSD in a replacement terminal can immediately restart operations.
3.Smooth application development
Our own long-time proven BHT-OS is installed as the OS, allowing users to continuously use existing applications created in the BHT-BASIC language. Even when new applications are created, development software, e.g., BHT Browser, which can implement development not in BHT-BASIC but in general languages, such as HTML and JavaScript, has been prepared and a member site (QBdirect) has been established for application development support that can be provided.
4.Operable in more than 40 countries around the world
Concentrating on the global use of products, DENSO WAVE Incorporated is expected to obtain certificates from at least 40 countries around the world*. The BHT-1300 series also supports indications written in major languages (English, Chinese, Korean, and Thai) and is available globally. DENSO WAVE Incorporated has also established overseas bases throughout the world. Providing a field system within which purchase of equipment, maintenance and support are completed, the company gives overseas support to handy terminal users.
Certificates are expected to be obtained from: EU: 27 countries, USA, Canada, Australia, New Zealand, China, Taiwan, Hong Kong, Korea, Singapore, Thailand, Malaysia, India, Indonesia, Philippines, Viet Nam, Russia, and Brazil