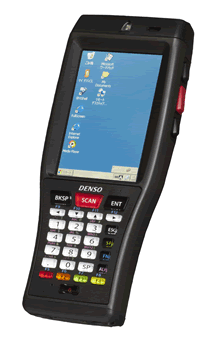 Aichi, Japan – DENSO WAVE INCORPORATED will launch a new series of Handy Terminals, BHT-1200s, on July 2, 2012. The new handy terminals are PDA-type models that can read varieties of codes including barcodes and QR codes, and display data searched on a real-time basis on a large screen. The BHT-1200 series, compared to the conventional PDA models that require both hands for operation, realize one-hand operation and improved portability by employing a easy-to-grip body shape and arrangement of buttons.
The new models can be used in more than 40 countries and regions and complies with terminal management software that provides consolidated control of all terminal devices.
The company aims to sell 50,000 units annually.
[About of BHT-1200 Series]
Global Handy Terminals that can be used in more than 40 overseas countries and regions
The new Handy Terminals utilize the latest code-reading algorithm that realizes high speed and great reading depth, with a large, 3.5 inch HVGA LCD screen that can display a great deal of information simultaneously, in anticipation of demand for the terminals in the device market, both domestic and overseas, for field operations such as distribution, logistics, maintenance and inspection. They are also designed in such a way that features introduced for one-hand operability are compatible with portability. The Handy Terminals will help our customers reduce the workload of their employees and make their consumer service operations more efficient, such as making possible inventory checks from the storefront and the issuing of sales slips in the field. The same applies to operations such as shipping and receiving of goods and warehousing in the field of logistics, as well as such field operations as maintenance and inspection activities.
Furthermore, the Handy Terminals are global devices that can be used in Japan, Europe, North America, Australia, China, Taiwan, Hong Kong, Korea, Singapore, Thailand, Malaysia, Indonesia and other markets. DENSO WAVE plans to support terminal management software that allows remote monitoring of any Handy Terminal online with a telecommunication network globally, and simultaneous updating of software in order to eliminate possible problems resulting from the globalization of our customer's businesses.
Large screen, one-hand operation capability, advanced reading performance, and installation of latest hardware architecture
The body of our new Terminal realizing one-hand operation has an further improved grip shape compared to DENSO WAVE's well received previous models, for a more natural grip. By shortening the distance traveled by the fingers, the Handy Terminal can reduce the burden on the user. Its portability is enhanced through its smooth shape without protrusions or dents, so that it can easily be put into a pocket or its case. With a task that has to be carried out with a great deal of information displayed on the screen, users can hold the Handy Terminal firmly, stabilizing the overall balance of the Handy Terminal, and leading to enhanced operability. This can improve users' productivity. In addition, the barcode reading speed is enhanced by more than 25% over previous models thanks to the newly implemented Advanced Scan Plus feature. Added to this is great-depth reading surpassing that of general laser scanners. These can also contribute to improving productivity by reducing the body movements that users have to make when reading codes.
A jacket structure, which provides sturdiness and resistance to environmental impacts, has been adopted for the frame of the Handy Terminal. Thanks to this feature, the Handy Terminal is ready for a wide range of operational temperatures from -20℃ to 50℃, an improvement over previous models, as well as durability against being dropped. Furthermore, the hardware architecture adopted is the latest and most full-featured available, with an 800 MHz CPU, 512 MB of RAM, 2 GB of flash memory and readiness for IEEE802.11n, the latest standard for wireless LAN, all in order to enhance operational comfort for our customers.
The BHT-1200 Series devices are slated for display at DENSO WAVE's booth at the AUTO ID EXPO 2012, to be held this coming September from the 12th to 14th at Tokyo Big Sight.
[Main features of BHT-1200 Series]
1. Superb reading performance
Thanks to adoption of the latest technology, Advanced Scan Plus, reading speed is improved, and great reading depth is realized. Because of these features, codes on items stored on upper shelves, as well as on items lower to the ground, can be read from an easy, upright posture, contributing to improved workability.
2. Easy-to-use device allowing one-hand operation, encased in a strong body
Thanks to the improved grip shape compared to previous models, effortless and natural operation with only one hand is possible. At the same time, the Handy Terminal has achieved a high level of durability against being dropped, owing to its sturdy jacket structure. Aside from these, other features that can guarantee users' peace of mind, despite long hours of use, have been introduced, such as readiness for IP54, operational temperature range from -20℃ to 50℃, and the use of resin key tops.
3. Large, easy-to-read LCD screen
Since the Handy Terminal comes with a large 3.5 inch HVGA (320 x 480 dots) LCD screen, a great deal of information can be displayed in an easy-to-read manner. Since a touch panel is also installed, it is possible to build software applications that can be operated with intuitive movement of the fingers.
4. Latest hardware architecture
Handy Terminal has the latest, full-featured hardware architecture with readiness for IEEE 802.11n, the latest wireless LAN, as well as a CPU operating at 800 MHz, 512 MB of RAM and 2 GB of flash memory, all in order to realize operational comfort for our customers.
5. Newly developed battery allowing long hours of operation
In addition to the standard battery, a large capacity battery can also be used with the Handy Terminal. Our customers can use whichever battery fits their usage pattern. If a large-capacity battery is used, the Handy Terminal can be operated for up to 23 hours.
6. Other functions
The wireless LAN module of the Handy Terminal is ready for IEEE 802.11n, the latest wireless LAN standard. All the models are equipped with Bluetooth and microSDHC card slots, a speaker, a vibrator and an auto-focus camera with 5.0 megapixel sensors, allowing our customers to widen the range of possible uses.