The ability to reduce burdens on workers at around-the-clock stores and deal with problems appropriately was highly evaluated.
World's first mobile barcode terminal "BHT-1"
To meet the needs for scanning barcodes regardless of location, DENSO WAVE brought world's first mobile barcode terminal "BHT-1" onto the market. Barcode scanning, microcomputer, battery and other functions became integrated into its body weighing just 440 g.
After the "BHT-1" came out, the improvement of portability became the next target for developing mobile terminals and DENSO WAVE introduced compact, lightweight models one after another. The company also pursued versatility, enhancement of reading capability and durability in consideration of long-time use, and the mobile terminal came into widespread use, including for on-board sales on trains.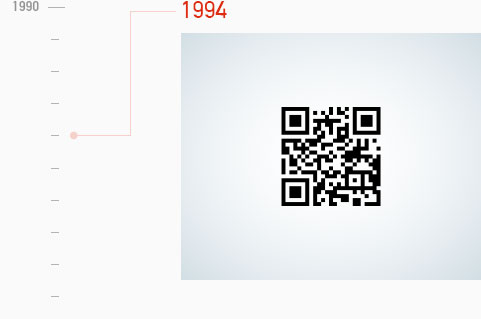 "QR Code," storing more than 100 times as much information as a barcode
To respond to the needs of manufacturing sites for increased data capacity and saving space, DENSO WAVE's engineering team developed the QR Code system in 1994, enabling an increase in data capacity and high-speed reading. DENSO WAVE decided to make the specifications of the QR Code system publicly available so that anyone could use the codes freely, and after 2002, when mobile phones with a QR code reading function were first put on the market, QR codes became widespread quickly thanks to their convenient features, including easy access to websites, and coupons and other added value."QK10," capable of reading mobile QR codes
"QK10," capable of reading mobile QR codes
In concert with the widespread use of mobile phones, DENSO WAVE launched this stationary scanner, which can read QR codes displayed on mobile phone screens. This scanner enabled its users to attract customers by sending coupons to mobile phones. Also, locating this scanner at an entrance gate at an event venue and scanning mobile QR code tickets that were sold online helped prevent loss of tickets and eliminated the costs of printing and sending paper tickets. Later, as smartphones came into widespread use replacing traditional mobile phones, to respond to the change, the company launched the "QK30," which can read codes displayed on large-screen smartphones.
High-power UHF-band RFID, reading many RF tags simultaneously
Mobile terminal "BHT-1281QULWB-CE"
RFID has been contributing mainly to stocktaking time reduction, etc. in the apparel industry. It took several days to complete stocktaking at apparel shops when a barcode-based system was used, in which it was necessary to scan product barcodes one after another; however, by introducing an RFID-based system, it became possible for one staff member to complete stocktaking in just a few hours. In addition to product management functions, such as stocktaking, the use of RFID was promoted also for the checkout procedure. At a checkout counter, the barcodes of purchased products had to be scanned one after another before an RFID-based system was introduced; however, after an RFID scanner was installed under a checkout counter, by simply placing purchased products on the counter, the information on the RFID tags attached to the price tags of the products can be inputted to a cash register instantly, allowing the checkout procedure to be completed very quickly.
Contributing to document preparation at tax-free shops
Passport scanner "QK30-OP-U"
In light of the fact that consumable goods, including food, drinks, drugs & medicines and cosmetics, became exempt from consumption tax for foreign visitors from October 2014 and central counters for tax exemption procedures are placed at more and more commercial complexes, the solution market for tax-free shops has been expanded. The challenges in tax-free procedures were that issuing the record of purchase and the covenant of purchaser, which tax-free shops are required to issue at the time of selling products tax-free to foreign visitors, was time-consuming and mistakes in filling out arose. DENSO WAVE developed a scanner that can be used for the document preparation procedure. The scanner can read information such as name and nationality from the passport to transfer it to the documents, contributing to shortening the necessary time for the document preparation procedure.