Overview
IoT Data Server is a "Data Integration Controller" consisting of high reliable industrial computer and non-programming data integration software.
It equips standard data management functions developed especially for data collection, process, saving, notice and publishing. These functions will help the data management in various scenes from the production cell system to production line, factory, cloud system.
Realizing everything from the data collection to visualization
Built-in dashboard function (Except IoT Data Server Entry-D)
Total security by three methods
Window control
Data access and function execution management according to the login level.
Antivirus
Antivirus software McAfee Embedded Control is equipped to block unknown virus. No need of security database update.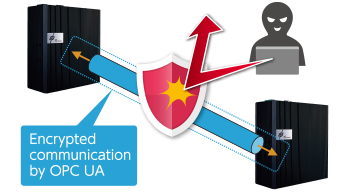 Secure communication
To prevent unauthorized access, communication between IoT Data Servers is encrypted.